Servicing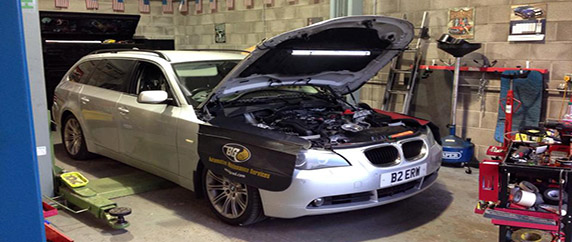 We service & maintain all makes & models of car, van, 4x4's, motor homes & even trailers.
Regular routine maintenance of your vehicle is essential and can be something that is easily overlooked. Professional car servicing helps maintain the resale value of your vehicle, as well as identifying faults before they develop into more serious problems.
We know that you want the peace of mind that your vehicle is being looked after to the high quality of a Dealership. We also know that you don't want to pay Main Dealer prices, which are usually extortionate.
We offer dealer-level service, diagnostics and facilities, but with the pride, attention to detail and most importantly – the price of an Independent Garage
Maximize the lifespan & value of your car
Our computerized database allows us to follow the most up to date manufacturer recommended service schedules, ensuring that you and your vehicle receives the same attention you would from a main dealer. Things have advanced so much these days that it's no longer a case of a set of spark plugs, Condenser, Distributor cap, a set of points. Remember those? You get the picture. These days once service items have been replaced or checked the vehicle often needs to be told these things have been done. If not the vehicle soon shows a light or message saying something needs replacing or needs attention. We have the relevant diagnostic equipment for this.
We give the customer the detailed check list from our computer system showing what has been carried out. All vehicles are washed after road test as part of the service at no extra cost.
New Car? You don't need to go to main dealer...
Servicing a new car
Changes to the BER in 2002 included clauses intended to increase choice when it comes to servicing of a new car. You cannot be obliged e.g. as a condition of warranty, to have your car serviced by a franchised dealer. Other changes at that time permitted multi-brand showrooms and no longer obliged dealers to combine sales and service/repair – though most have continued to do so. The work can be carried out by an independent garage as long as that garage uses manufacturer approved parts and correctly follows the manufacturer's service schedule. Independent garages generally have much lower overheads than franchised dealers so their hourly labour rate is also cheaper.
Right to repair
Unfortunately the Euro 5 and 6 Regulations only guaranteed the availability of technical data and repair information for cars first registered after 2009. There would be no guarantee that the independent trade and motoring organisations could continue to access repair information and technical data for vehicles registered before 2009 if the BER were allowed to lapse. The independent 'Right to Repair Campaign' eventually succeeded in having the Block Exemption Regulations renewed and improved. This ensured that technical data and workshop procedures remained available. By securing access to technical and repair information the Block Exemption Regulation helps to: Keep repair costs down Provide security for independent garages and specialists such as auto-electricians, air conditioning specialists and body repairers Ensure you don't have to wait too long or travel too far for servicing or repairs.
Parts Quide
You know you want quality parts but don't understand what the difference is between them. This quick guide should help you.
You don't need to worry too much as we do not use cheap parts as it's false economy. This quide is to help you understand the difference between them. Yes you can often find very cheap parts on auction sites, but that can often cause more hassle than it's worth.
OE – short for Original Equipment. A specific part has either come straight from the manufacturer or is branded with the manufacturer's logo.
OEM – stands for Original Equipment Manufacturer- at one time or another this parts manufacturer has supplied parts to the car company for that vehicle.
OES – Original Equipment Supplier.
OE or Oem quality parts/aftermarket parts- parts although not originally used to build the Vehicle, are made to equal standard or better than the manufacturers specification.
What many car owners don't realise is that when a car comes off the production line, many of its parts will have been made not by the actual manufacturer, but by contracted OEM/OES manufacturers who are given individual specifications, going on to make the specific parts and returning them to the car manufacturer. In most instances, OEM/OES parts will not have the car manufacturer's logo branded on the product and will be significantly cheaper than OE parts.
Aftermarket parts are made either by OEMs or by a different manufacturer altogether. These are not made to specification although this does not necessarily mean that the parts are any lower in quality.
Be wary however, of counterfeit part manufacturers, who will use any means to obtain car manufacturer specifications and create parts which are always of inferior quality, in a bid to keep costs down. You should always therefore avoid buying parts which are significantly cheaper than any other quote. Do your homework and search for a supplier which is offering a part at a reasonable yet realistic price, along with a warranty and standard return policy.
save money on fuel
Ask us about the MPG Service.
We recommend this MPG improvement service.
Cleans Fuel System.
Combusted fuel leaves deposits in fuel systems. The most critical component is the injector. Deposits interfere with proper spray pattern. This service will clean the entire fuel system & restore atomized spray pattern in the injector.
Restores Engine Compression.
Compression is vital to power & Economy. As a vehicle's piston moves it squeezes a fuel/air mixture in the cylinder, giving it explosive power. Rings around each piston ensure a good seal. Loss of compression is usually due to deposits restricting these rings.
The BG Compression Restoration Flush will clean deposits from the rings, restoring peak compression, ensuring maximum Power & Efficiency.
The link above will soon give you more info about BG Products.